Read through these instructions and contact Rad Power Bikes Technical Support if you have questions. If you are not confident in your ability to successfully and safely perform all steps, we recommend having the work performed by a local, certified, and reputable bike mechanic.
To clean your ebike by Rad Power Bikes, ensure the battery is in the off position and wipe down the frame with a clean cloth dampened with warm water. If needed, apply a non-corrosive, biodegradable detergent mixed with water to dampen the cloth and wipe the frame.
Keep the bike right side up when the bike is wet or being cleaned. Moisture is designed to move off the bike from top to bottom, and flipping the bike over to clean it could lead to liquid entering components and causing possible water damage.  
Exercise caution to prevent water or liquid from entering or damaging electronic components. Avoid getting excess water on the following electrical component locations: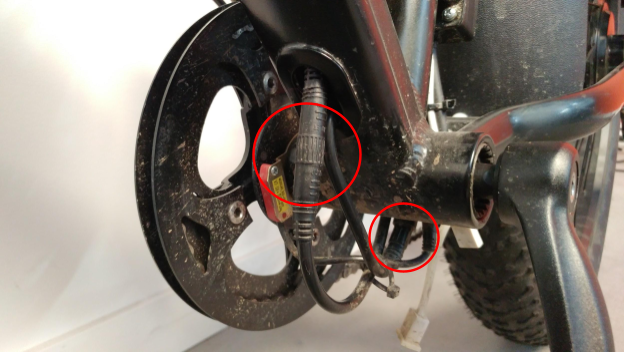 Dry the bike as well as possible using a clean, dry cloth. Store the bike in a dry location indoors to allow the bike to dry completely.
 Do not use a hose or direct spray of water/liquid onto the bike or electrical components. A hose or spray of liquid could cause moisture damage to the electrical components, and that is not covered under warranty. Never submerge any electrical components on ebikes in water or liquid. 
Notice: Riding on the beach or in coastal areas exposes your bike to salt, which is very corrosive. Saltwater can cause damage to both electrical and mechanical components, due to its higher electrical conductivity and ability to corrode metals. Maintenance procedures including cleaning the frame and mechanical components with freshwater after exposure to salt water environments, regular maintenance and lubrication of the drivetrain components, and indoor storage when not in use can help increase the longevity of the bikes when being ridden in coastal areas. Damage from corrosion is not covered under warranty so special care should be given to extend the life of your bike when used in coastal areas or areas with salty air or water.
For questions about best practices for cleaning ebikes by Rad Power Bikes, contact Rad Power Bikes Technical Support by email to support@radpowerbikes.com or by phone to (800) 939-0310 x 2.